Is it art or is it trash?
We all know them, we all see them. In almost every city you can see walls, facades, bus stops or street signs painted with one or more tags. The English word "tag" means a mark or label with which the writer leaves his signature on a certain object and claiming a certain presence in the respective city by repetition. Accordingly, it is not surprising when one sees countless of these writings on already overloaded house walls. Often they are just pseudonyms of the artists. But occasionally a word, a quotation or a saying appears that makes you think and sometimes they are just simple symbols hiding a deeper meaning.
Omnipresent and yet expressive
But many people ignore this type of communication and see it as just another form of graffiti or property damage. I, on the other hand, see in them a testimony of our time, in which every person with a pen can create his very own message for his fellow human beings. This is where my article will start and invite the reader to take a short moment for such seemingly every day and insignificant inscriptions in the urban space. That's why I have chosen five of my personal favorites according to my own subjective criteria:
The "FAKEFACE" in Milan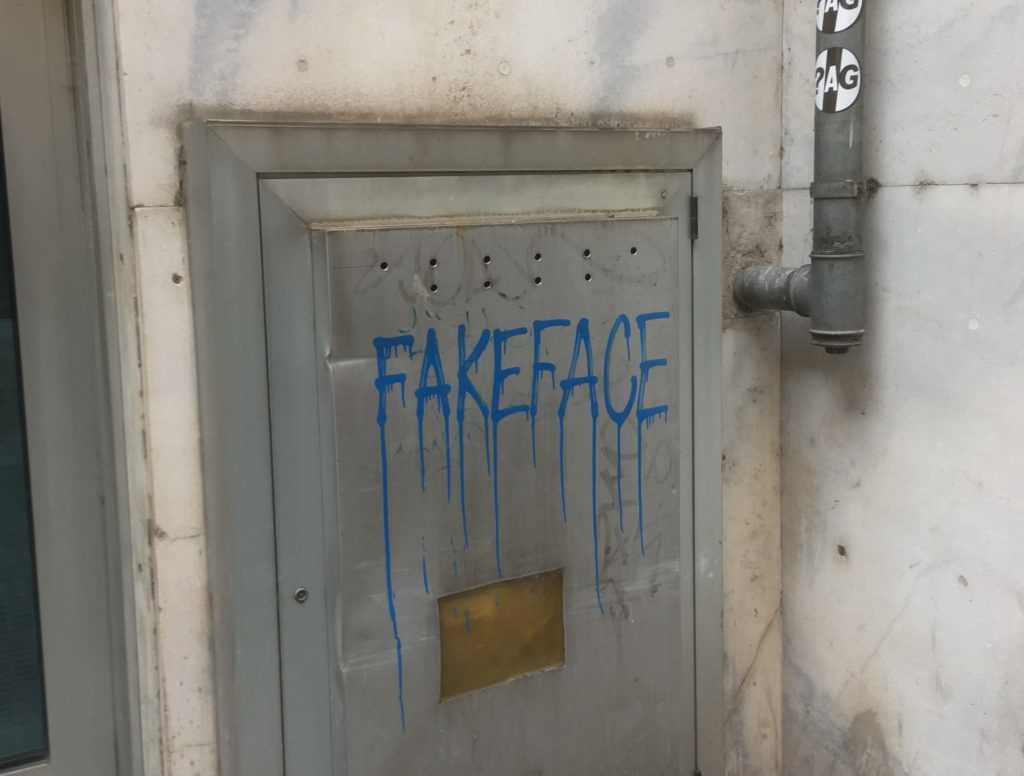 In downtown Milan, a place where people of all ages photograph themselves or have their pictures taken in front of the cathedral, the Castello Sforzesco or the expensive designer shops of the Viktor-Emanuel-Passage, I discovered this blue lettering in a small corner. The impression of a certain irony arises when the inscription "FAKEFACE" is located where various people can be photographed for their social media channels and others simultaneously spend thousands of euros on clothing, accessories or jewellery. One could cynically claim that everyone there does something for their own fake face.
"Berliner Schnauze" – The sassy slang of Berlin citizens
The following two examples come from the upcoming Berlin district of Neukölln. A few years ago it was still called a no-go area, but today young and hip people increasingly settle there who can no longer afford the rents in Friedrichshain or Kreuzberg. Little by little, neighborhoods are emerging in which migrants, students, artists and workers live together. With such an up-and-coming district, it doesn't come as a surprise to learn that an art festival called "48-Stunden-Neukölln" takes place once a summer in the entire district, for which every inhabitant can apply and present their own projects. The first lettering comes from one of the projects, but it is ambiguous whether it was an idea of the artist or the action of a messy writer among the visitors.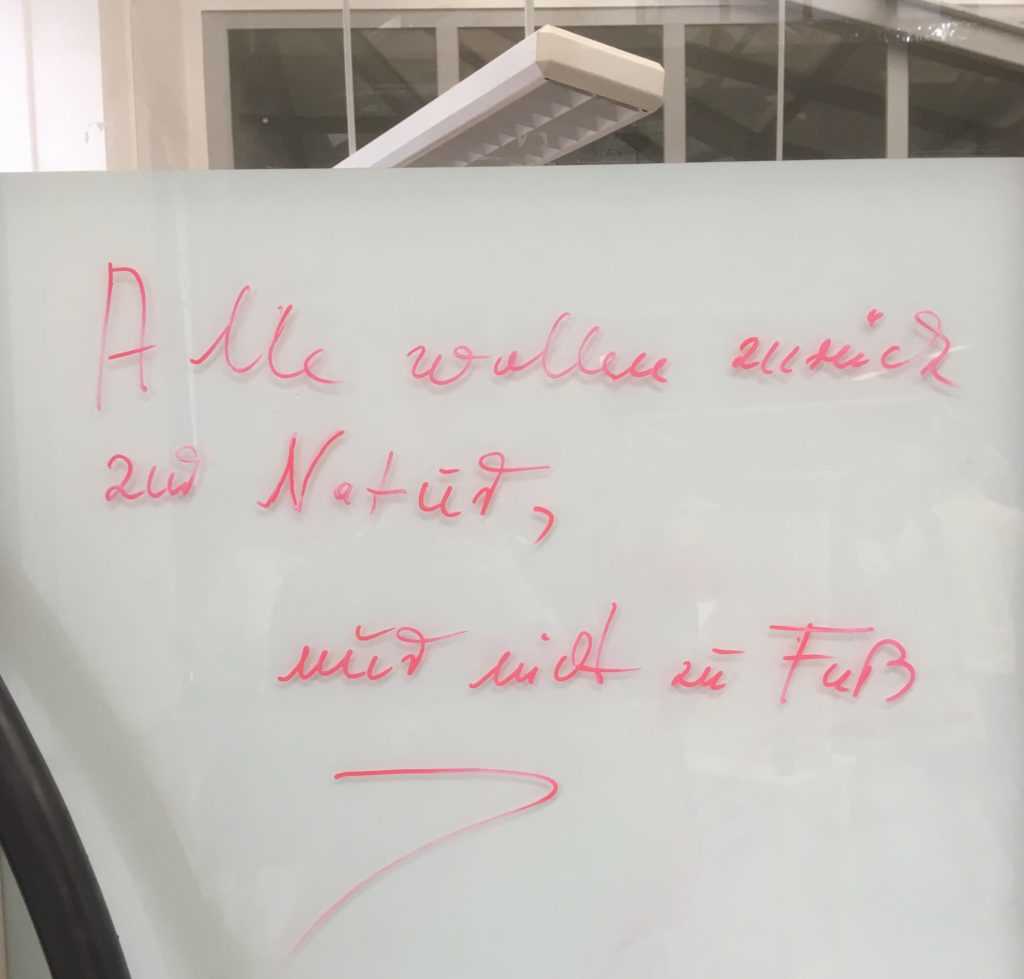 "Everybody wants to go back to nature but not on foot"
In times when movements like Fridays for Future or Extinction Rebellion demand a radical change in climate policy, sayings and quotations on this topic are always present. But only a few of them have made me smile and think like this one. After all, self-reflection and irony are also a recommendation for some inhabitants of Berlin.
Practice makes perfect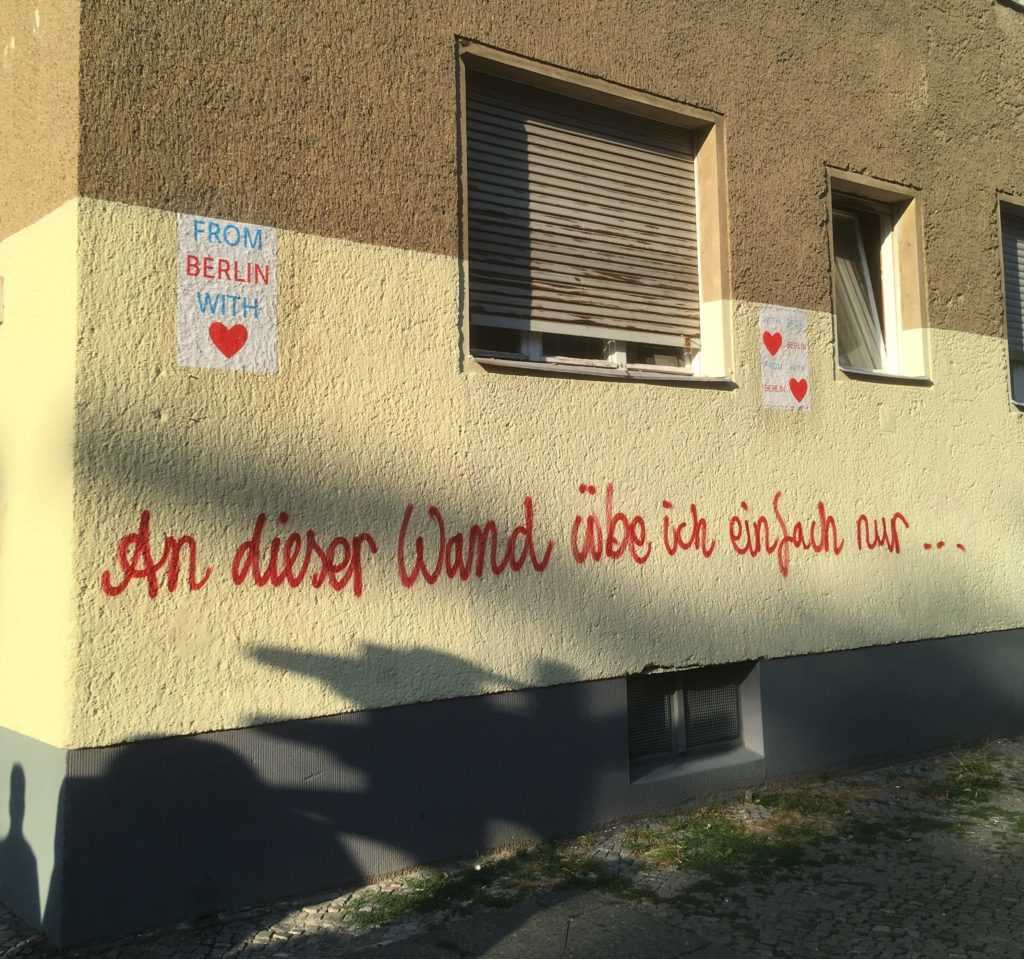 A sprayer who was also on the road in Neukölln probably took this motto to heart. There is not much to say, except that red on yellow is always a good combination.
The classic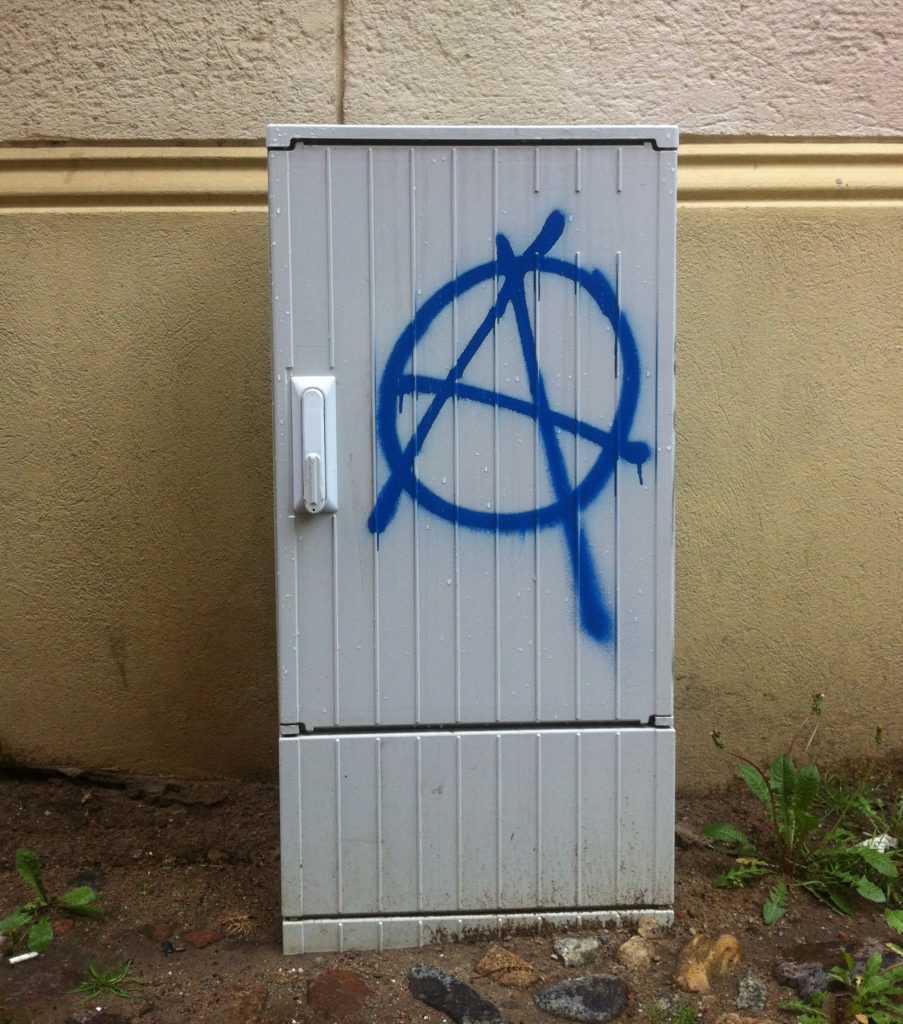 I associate this example above all with personal memories. It's the plain anarchy sign. Usually found on squatted houses, stickers, punk jackets or just electricity boxes. It is neither exceptionally beautiful nor particularly imaginative. But for more than eight years it was in a place relatively far away from squatters. Namely in the Brandenburg city of Frankfurt an der Oder in East Germany. This situation is representative of the considerable prominence of this symbol. You can discover it in almost every corner of the world. In the big cities or at the village bus stop and as well at the East German border to Poland.
Free the open spaces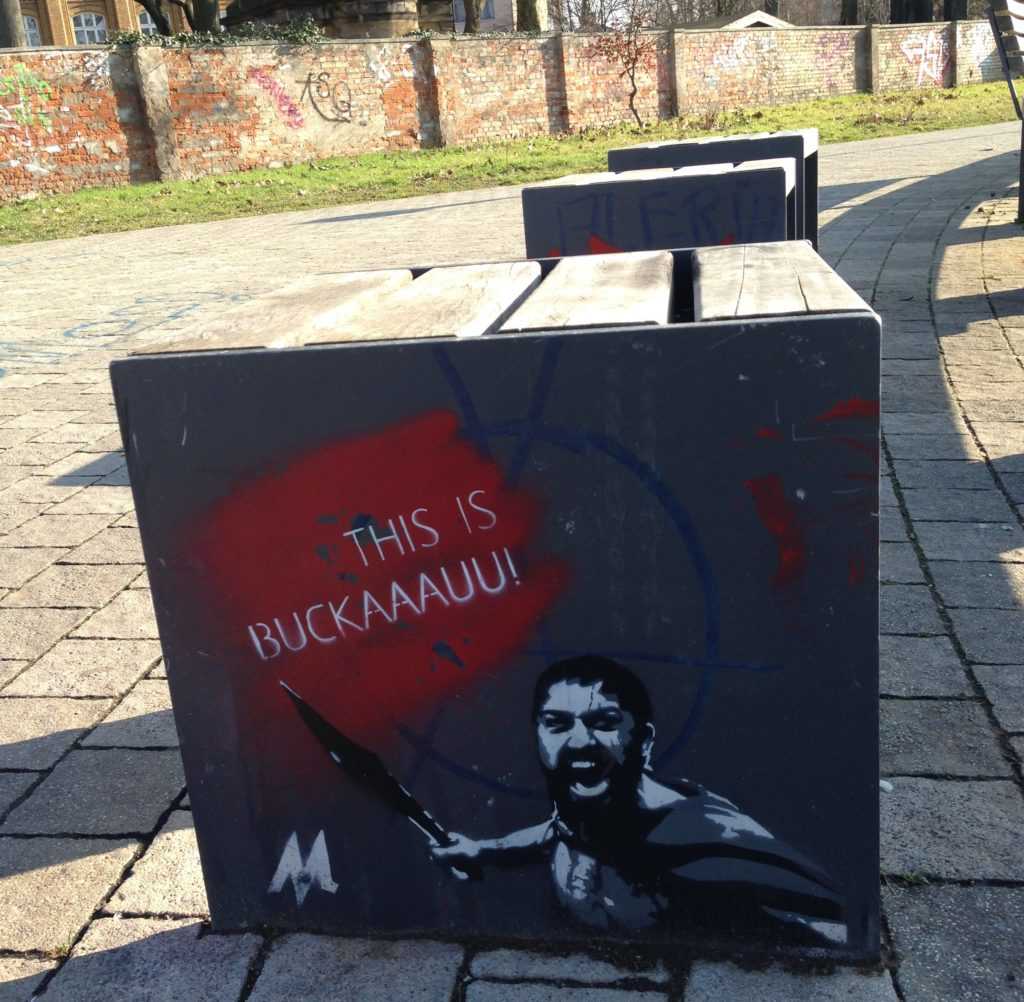 The last image does not belong to the category of tags listed above, but can still be named in this context. Tags can also be attached in the form of stencils. This stencil with the famous Spartan from the movie "300" is located in Saxony-Anhalt. To be more precise, in the Magdeburg district of Buckau. In the German city at the Elbe there are numerous graffitis and tags. Among them also very special.
A few years ago, the so-called "open space" was still an area where there was essentially garbage, rubble and a few grasses and bushes, which were literally strewn with dog piles. But as the neighborhood, due to the low rents, increasingly developed into a neighborhood for young students and accordingly became more attractive for the housing market, the city began to build on the area more and more. Today there are several residential buildings, a kindergarten and construction sites for new projects. Perhaps that's why the last Spartan was installed in the open space to protect it from the ultimate density of houses? Who knows …
This article is an adapted translation. The original article published in German was written by Karl Mühlbach located in Berlin. It is also available in French. The translation was done by Karl with reviews by Oliver and Vincent.