Die Bewegung der Gilets Jaunes hat ein starkes Bedürfnis sich auszudrücken. Sei es bei Demos durch bunte Schilder und Verkleidungen – oder Taggs an den Wänden. Die Graffiti-Szene nutzt natürlich die Gelegenheit, der Straße eine Stimme zu verleihen, und so trafen verschiedene Künstler in der Black Lines Community zusammen, um sozialkritische Wände im Kontext der Gelb-Westen zu gestalten. Die Graffiti-Jam fand im Mai an der Rue Ordener im 18. Arrondissement im Norden von Paris statt.
Zu Beginn des Jahres hatte Black Lines bereits eine erste lange Wand mit verschiedenen Künstlern gestaltet. Damals war das Leitthema "hiver jaune", welches gelber Winter bedeutet. Jedoch reagierte die Verwaltung des 19. Bezirks schnell und ließ die Wand grau überstreichen. Eines der Bilder, welches damals Polemik schürte, war die Freske des Boxers Christophe Dettinger, das von dem Künstler Skalp realisiert wurde. Dettinger hatte auf einer Brücke in Paris die Polizei mit Fausthieben zurückgedrängt.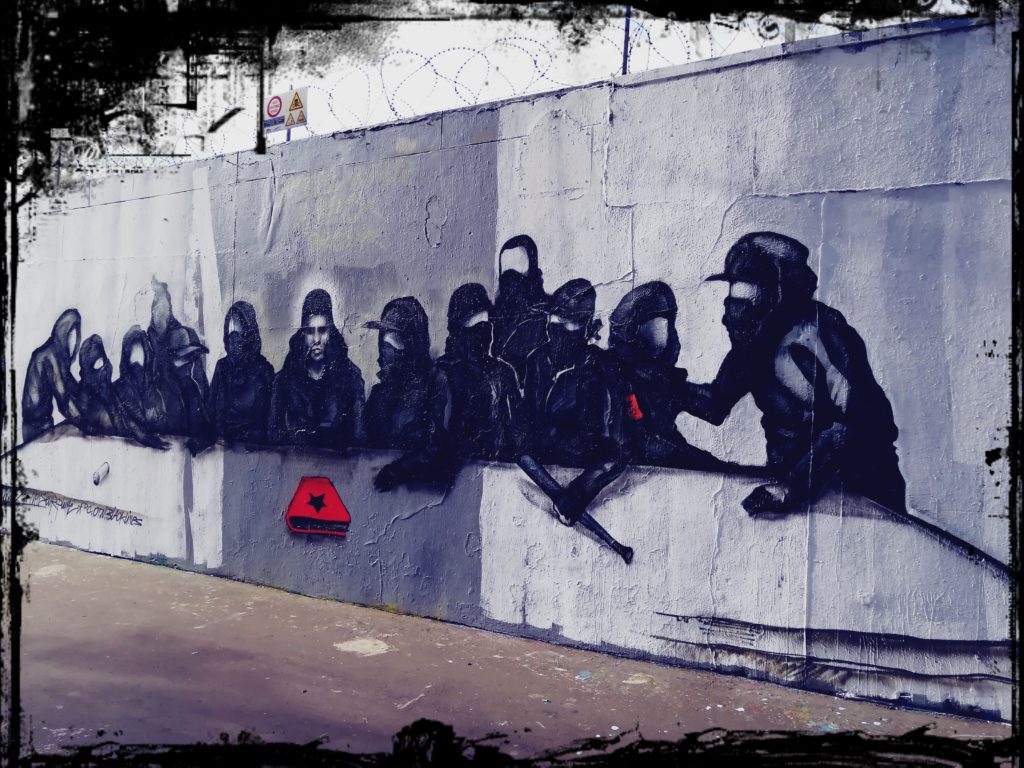 Die Handlung von der Stadt wird jedoch von den Kunstschaffenden als Zensur wahrgenommen. Klar, dass sich dies die Künstler nicht gefallen lassen – und so geht es in die nächste Runde. In der Freske von Monsieur Plume /RC/OTM versammeln sich schwarz verhüllte Gestalten um einen Tisch, auf welchem ein rotes Buch liegt, nach dem eine Person zu greifen scheint. Die Gruppierung schwarz vermummter Gestalten geben den Anschein, als ob eine Verschwörung im Gange ist. Zum linken Rand liegt eine vereinzelte Sprühdose auf dem Tisch, während auf der anderen Seite ein Vermummter mit Schläger neben einer stehenden Person sitzt, die das Wort ergreift. Worüber diese Personen diskutieren ist nicht zu erfahren. Dafür aber hebt sich das leitende Thema der Black-Lines Edition deutlich hervor: Zensur und Meinungsfreiheit. Mit dabei: Slyz, bricedu, Torpe und Vince.
Die Gewalt
Knüppelnde Polizisten. Ganz schön unangenehm.

Auch Hundebrigaden werden in Paris gerne zur Ordnungswahrung eingesetzt.
Wird hier gerade eine Aussage erzwungen? Die tapfere Marianne wird von Journalisten bedrängt.

Schlagstock gegen Farbdose? Könnte weh tun! Kärcher gegen Lack? Na dann, viel Spaß
"Les graffeurs sortent les bombes – l'état sort le Karcher."

Die Sprüher holen die Farbbomben – Der Staat den Kärcher by Slyz
Die allsamstäglich wiederkehrende Gewalt ist ein großes Thema unter den Anhängern dieser Sozialbewegung. Dies spricht der Künstler Slyze (rechts) mit seinem Bild, einem Photo nach Bsaz, an. Auf diesem ist ein Polizist zu sehen, welcher mit einem Knüppel auf einen Demonstranten einzuschlagen scheint. "Resistance" steht auf seinem Rücken geschrieben. Die rote Banderole im Hintergrund, welche sich vor schwarzen Rauchschwaden emporhebt, sagt aus: "Die Sprüher holen die Farbbomben raus" – Ein Aufruf, die Stadt in Farbe zu tauchen, und zivil ungehorsam zu sein? Auf dem unteren Schriftzug steht: "Der Staat holt den Kärcher raus" – In Kombination zum Gewaltakt auf dem Bild kann die Anspielung auf das Hochdruckreinigungsgerät verwirrend erscheinen.
Fakt ist, dass Putzkolonnen in den Stunden nach den Großdemonstrationen aufräumen. So wie während dem 1. Mai, als direkt an erster Stelle die leeren Granatenhüllen der Flashbangs (GLI-F4) und Tränengaskartouschen, aber auch Gummigeschosse aufgeräumt wurden. Dem folgen dann Transporter, in denen die Berge an Abfall gesammelt werden. Am nächsten Tag verschwinden dabei bereits die ersten Taggs von den Wänden und Holzabschirmungen der Geschäfte und bilden Flickenmuster in der Fassade. Manche Straßenzüge werden dabei so sauber gehalten, dass nach einigen Tagen alle Spuren jeglicher Raumaneignungen verschwinden. Den Kärcher konnte Urbanauth dabei am Sonntag nach dem 16. März in Aktion sehen, als Arbeiterkolonnen die Schäden an den Champs-Elysees im Eiltempo zu reparieren versuchten.

Auf dem linken Bild ist das Abbild einer Marianne zu sehen, welches von dem Künstler Torpe gestaltet wurde. Die Marianne ist eine Symbolfigur der französischen Revolution. Das Gesicht grimmig, in einer Hand die französische Flagge und in der anderen ein Gewehr haltend, findet sie sich von Journalisten umringt. Geradezu verurteilend scheinen sie, wie sie fragen: "Die Gewaltausschreitungen, Verurteilen Sie sie?" "Also die Gewalten, verurteilen sie die?" "Verurteilen Sie die Gewalt".
Dieses gesellschaftskritische Werk kann als Darstellung des öffentlichen Druckes auf die Demonstranten verstanden werden. Die freiheitsliebende Marianne gerät in Bedrägnis und hat sich vor den Medien für die Gewalt zu rechtfertigen. So kommt ihrer Meinung nach die schwerste Gewalt vom Staat selbst, in Form von physischer Gewalt: während den Demos oder in den Vororten, aber auch in psychischer Form: Wie etwa bei Kürzungen von Sozialhilfen, der Rente oder der Schließung von öffentlichen Anlaufstellen und dem Gefühl, von der Politik nicht gehört zu werden.

Die Medien
Autocensure – extra large – so that nobody can overlook it.

A boy poses in front of the "autocensorship".

Garantiert ohne Barbara Streisand Effekt… oder vielleicht doch nicht?

"The factory of consent presents: Seen on TV." TPK tagged also here mainly into the white open spaces.

Eine Frau läuft mit ihren Einkäufen die rue Ordener entlang.

May the force be with the next generations.
In dem Meisterwerk des Pariser Sprühers Vince halten auf eine zehn Meter lange Fläche zwei Hände ein rotes Schild, auf dem "Autozensur" geschrieben steht. Der Satz darunter besagt: "Diesmal wird es die Stadtverwaltung nicht wegmachen…". Und spielt damit wohl auf die Aktion der Stadtverwaltung an, als die letzte Black Lines Zusammenkunft grau übermalt wurde. Unten rechts liest sich sarkastisch: "Angereichert an sozialer Kontrolle". In der Bildserie ist die vollständige Größe der Freske zu sehen. Oben steht dabei: "Garantiert ohne Barbara Streisand Effekt". Beim Barbara Streisand Effekt handelt es sich um eine unerwünschte Information, deren Vertuschungsversuche nur dazu führen, dass die Information umso bekannter wird. Dieses Effekts bedarf es dabei bei diesem Kunstwerk nicht, denn: Die Passanten reagieren alles andere als gleichgültig. Sie nutzen die Gelegenheiten, sich mit der "Autozensur" abzubilden.
Das Verhalten der Medien gegenüber der Sozialbewegung steht dabei auch stark in der Kritik. Während Ausschreitungen gegenüber Polizisten im Fokus der Medien zu stehen pflegen, werden Gewalttaten gegenüber Demonstrierenden deutlich weniger stark thematisiert. Der unabhängige Journalist David Dufresne, welcher Zeugenaussagen und Videomaterial zur Polizeigewalt seit dem Beginn der Gilets-Jaunes Bewegung sammelt, kommt Ende Mai auf nicht weniger als 803 Verstöße. Die Anzahl der Verletzten seit November übersteigt dabei inzwischen die 2000er-Marke.
"Les Medias vivent quand la rue meurt. C'est une info, pas une rumeur!"

Die Medien leben, wenn die Straße stirbt. Das ist eine Info, kein Gerücht!
Die Frau auf dem Bild – wohin sie wohl gerade unterwegs ist? – läuft an einem in dünnen schwarzen Linien gezogenen Fernseher vorüber. Ein Timer zeigt die Ziffern 13:12 an, während Drähte an der seitlichen Schale zu Dynamitstangen führen. Im Gerät liegen drei Karotten mit Namensschildern darunter: Eine für TF1, welche der Gruppe Bouygues gehört; eine ist für CNEWS, die in Verbindung zur Gruppe Bolloré steht; und die letzte geht an BFM(-TV). Diese drei Fernsehsender gehören privaten Investoren. Mit darunter versammelt die Crème de la Crème der französischen Wirtschaftselite: Vincent Bolloré, Martin Bouygues…
Nicht umsonst skandiert ein Schriftzug auf der oberen Seite: "Die Medien leben, wenn die Straße stirbt. Das ist eine Info. Kein Gerücht!". Denn während an den Krawallsamstagen des 1., 8. Dezember 2018 und 16. März 2019 die Zuschauerzahlen bei den Fernsender durch die Decke gingen und Moderatoren heiß liefen, gilt es anzumerken, dass nicht alle Medien verhasst sind. So haben die Gilets Jaunes Respekt vor unabhängigen Journalisten, welche von staatlicher Seite eingeschüchtert werden. Wir berichteten darüber.
Ob die Granate die der Bär hält hoch geht? Meinungsfreiheit in Gefahr

Ein Wink mit der Guilottine: Das letzte Black Lines wurde grau überstrichen
Was wird aus der Meinungs- und Pressefreiheit?
Das Straßenschild "Platz für die Meinungsfreiheit", einem aufgeklebten Poster, ist auf dem linken Bild von Stacheldraht umgeben. Zwei Überwachungskameras deuten dabei sinnbildlich auf die steigende Überwachung, während ein kleiner, schelmisch lächelnder Bär unter dem Schild sitzt und eine Granate in der Hand hält. Als Zuschauer ist man versucht sich zu fragen, wann diese wohl hochgeht.
Bei der Guillotine, einer Erfindung aus den Zeiten der französischen Revolution, handelt es sich um ein Fallbeil, mit dem unter anderem der König Ludwig XVI geköpft wurden. Dieses ist im linken Bild auf einen Bleistift gerichtet, auf dem der Name des veranstaltenden Vereins steht. Während die erste Graffiti-Jam unter dem Motto: "Gelber Winter" von der Stadtverwaltung grau überstrichen wurde, liegt der Fokus der letzten Jam auf der Meinungsfreiheit.
Die Künstler wurden in ihrer Ehre angegriffen – doch nicht nur von Seiten der Graffiti-Szene ist die Unzufriedenheit spürbar. In einem offenen Brief Anfang Mai rief das Kollektiv YellowSubmarine dazu auf, sich mit sozialen Protestbewegungen zu solidarisieren und nicht vor den Gewalttaten wegzuschauen. Das Kollektiv besteht aus Künstlern verschiedener Disziplinen. Ihre Petition verzeichnet inzwischen über 26.000 Unterschriften.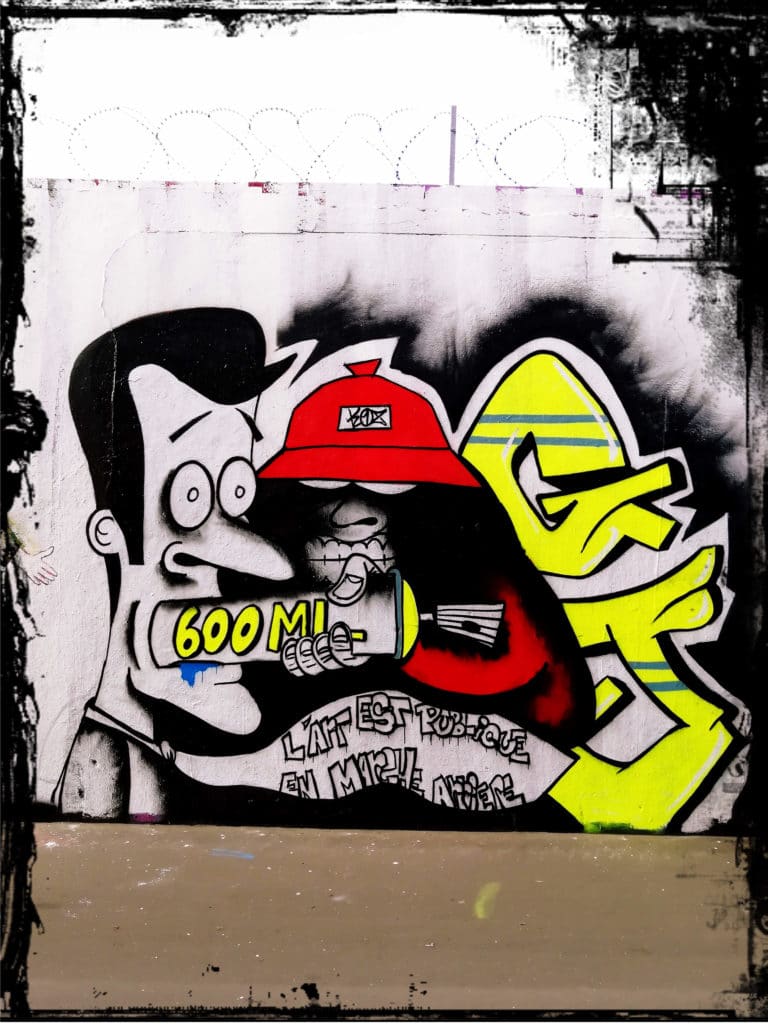 Und auch der Künstler, bei dem es sich möglicherweise um Koz1 handelt, scheint die Geduld mit dem Staat verloren zu haben. So stopft in Hip-Hop Kleidung sein wütender Affe einem karikaturesken Präsidenten eine 600- Milliliter High Pression-Sprühdose in den Mund. Natürlich in Neongelb. Das fetzige "GJ"-Graffiti im Hintergrund, die Initialen der Bewegung. Auf der vom malträtierten Staatsmann weg-wehenden Krawatte steht: "Kunst ist öffentlich. Marsch zurück." Das "En marche arrière" nimmt dabei Gegenstellung zum Namen der regierenden Partei: "La République en marche" (/LREM), welches näherungsweise mit "Die Republik in Bewegung" übersetzt werden kann. Eine Ansage, die möglicherweise in Bezug zu den Kürzungen im Budget von Bildung und Kultur, sowie einer gefühlten Degradierung der Arbeitsbedingungen zu tun hat.
Aber…
Jemand hat noch ein Wort mitzusprühen
Graffiti? Gilets Jaunes? – Okay

Aber hier? – Falsche Adresse
TPK, unter anderem bekannt als The Poor Kids – eine der berüchtigsten Graffiti-Crews der französischen Hauptstadt, waren nicht so ganz einverstanden mit Black Lines. Die Crewmitglieder: Relax, Craze, Eby, Keas, Blod, eyome, Knyze, dkc zeigten das wenige Tage später nach der Veranstaltung. Die Hall of Fame an der rue Ordener ist dafür bekannt, den alteingessessen Sprüher-crews zu gehören. Greenhorns und Fremde sind unerwünscht. Auch wenn die Graffiti-Szene der Gilets-Jaunes Bewegung im Nahe steht, da die unvorhersehbare Menschenmenge den Sprühern Deckung gibt. Und auch wenn die Stadt für sie samstäglich zum Spielplatz wird, so sind die Wände an der rue Ordener von hoher Bedeutung für die eingessenen Crews. Thematisch passend wird dabei im ersten Bild in gelb und nachlässigen Buchstabenstyle über das Werk gesprüht. Die verschonte Botschaft besagt: "Die Revolution ist die Offenbarung am Horizont".
Auf dem zweiten Bild ist die Aussage des Künstlers Adam Yuul ebenfalls erspart geblieben. In roter Schrift warnt er vor drei Epidemien: Castagnitis, Rugyole und Penicose. Die erste ist auf Christophe Castagner, seines Zeichens Innenminister und Parteivorsitzender der LREM bezogen, während mit Francois de Rugy der Umweltminister und Muriel Pénicaud die Arbeitsministerin bezeichnet werden. Im Zusammenhang mit den Forderungen: Inneres – man denke an die Polizeigewalt und provisorischen Gewahrsame sowie Überwachung. Ökologie – welche Macron in seinem Wahlprogramm bewarb, ohne Erfolge vorzuweisen. Arbeit – eines der Grundmotive für die Entstehung der Gilets Jaunes ist die sinkende Kaufkraft in Verbindung mit den Löhnen und den großen strukturellen Unterschieden im Land. Die Freske kann dabei als Kritik an der neoliberalen Wirtschaftsausrichtung der regierenden Partei verstanden werden, weswegen der Künstler abschließend warnt, nicht ohne die gelbe Weste aus dem Haus zu gehen.
Anmerkung: Die Schriftzüge und Zitate auf den Wänden wurden frei übersetzt und an das Deutsche angepasst. Die Bildinterpretation ist nur eine von mehreren möglichen Betrachtungswinkeln.